The ArchiMate® 3.1 Training – Foundation is an accredited course based on the ArchiMate® 3.1 Specification which is the latest open and independent modeling language for Enterprise Architecture from The Open Group.

The Open Group ArchiMate Certification for People Program is a market-driven education and certification program to support the ArchiMate modelling language, and ensures that individuals are knowledgeable about the visual modelling language. Assessment is via a formal examination either on-line or in a Pearson Vue facility.
About this Course
The Open Group credential provides validation that the Candidate has gained knowledge of the notation, terminology, structure and basic concepts of the ArchiMate modeling language.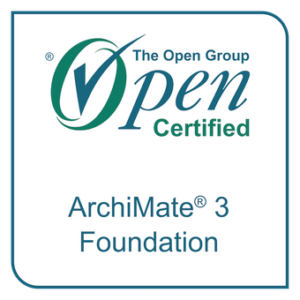 The learning objectives at this level focus on knowledge and comprehension. There is an examination included and after passing the examination an Acclaim Open Badge is available for certified individuals.
The modelling language enhances your architectural visualisation and digital impact
Developing an Enterprise Architecture capability within an organization requires a simple and clear format for stakeholders to capture their areas of interest, views and viewpoints of current and future architectures.
ArchiMate® is designed to achieve this goal and provides the capability for comprehensive modelling visualisation and environment for the enterprise architect to use.
After attending the training, students will be able to model a uniform representation of an organisation's Enterprise Architecture with diagrams that describe, analyse, and visualize the different architecture domains, their relationships, and dependencies in an unambiguous way. Ensuring that stakeholders have a common language of communication to define and understand the concept of architecture change.
This course is of 14-hour duration and is available as either classroom-based, live webinar or self-learning digital training options. The training materials are available for minimum 6 months. The materials are based on ATE Enterprises' experience of developing and using Enterprise Architecture and ArchiMate 3.1 standards, our extensive training programs and combines formal teaching, personal and/or group exercises/quizzes using our latest Learning Management System.
Benefits of the ArchiMate 3.1 Foundation Training include:
Enables visibility of your digital transformation:

ArchiMate enables you to articulate your target Enterprise Architecture comprising high-level views of your strategies, business capabilities, processes, products, services, people, infrastructure and partnerships facilitating a view of the impact of digital transformation and better-quality decision-making as a result.
Training Benefits

A real case study is used to show how the ArchiMate language is used to solve digital transformation. Developing skills and competencies to improve productivity is a key cornerstone of the training. If you have some experience of using ArchiMate the training takes you into the new features and capabilities of the ArchiMate 3.1 standard to support the TOGAF 9.2 version of Enterprise and Business Architecture notations and shows you how to produce good quality models.
Curriculum
The course includes the basic concepts and key terminology of Enterprise Architecture and the ArchiMate modeling language covering the following Learning Outcomes and their purpose: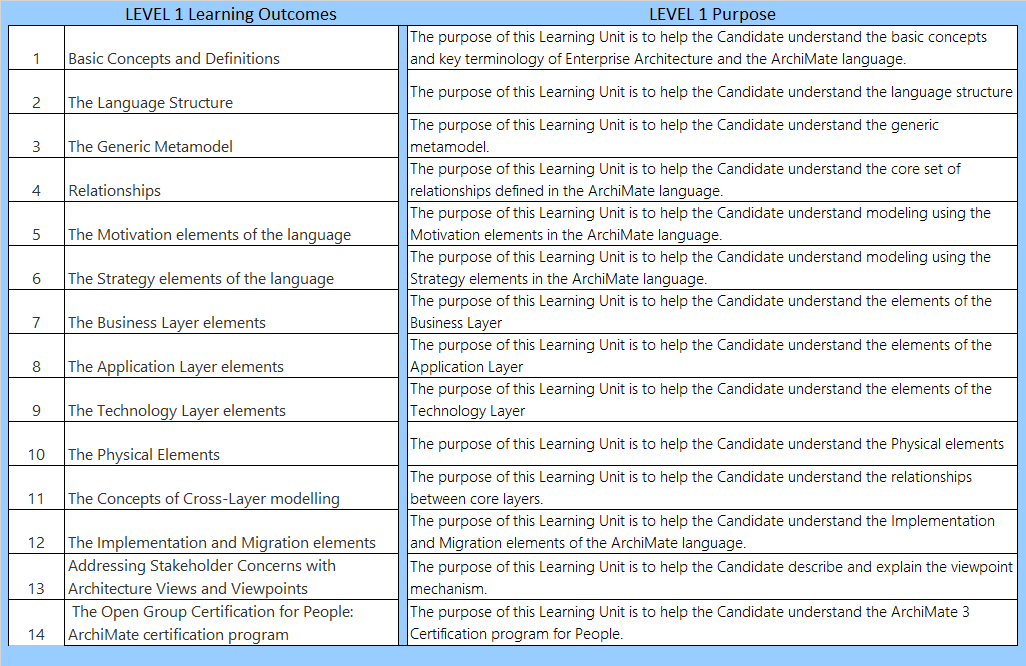 Who is this Course for? 
1. Individuals responsible for developing, planning, or managing the execution of part of a digital transformation and Enterprise Architecture.
2. Professionals who are working in roles associated with an architecture project and who need to understand architecture artifacts developed using the ArchiMate modeling language
3. Individuals who require a basic understanding of the ArchiMate modeling language
4. Individuals who want to achieve a recognized qualification to demonstrate their knowledge of the ArchiMate modeling language
5. Individuals wishing to progress to Enterprise Architecture Modelling Practitioners
Our approach is suitable for individuals with roles and responsibilities for the all or part of an Enterprise Architecture and/or its domains especially:
• Business Professionals with a detailed interest or Governance role in their Enterprise Architecture
• Enterprise and Solution Architects
• Business Analysts and Business Architects
• Data and/or Application Architects
• Technology Architects
• Services Architects and IT Professionals
Assessment
A course completion certificate will be issued after successful completion of the course as reflected in the Learning Management System.
The course is an Open Group accredited course with an examination voucher and on passing the examination leads to a personal ArchiMate 3.1 Foundation certification.
Certification is open to all students – there is no requirement for any previous certification.
Study Track
All materials required for the examination are individually marked as Level 1 Learning Outcomes of which there are 14 learning units with a variety of learning outcomes in the training materials. A full list of the Learning Outcomes is also available so that students are well prepared for the examination subjects.
There are also training quizzes in the examination style for the Foundation examination. Copies of previous examination papers is provided though these are not current questions in the current examination bank.
Students must complete the 14 Level 1 Learning Units defined in the Conformance Requirements Document and pass the ArchiMate Part 1 Examination. Certification is only achieved after passing the Open Group set examination.
Examination

Examination Name: ArchiMate 3 Part 1
Examination Type: Multiple-choice examination, 40 questions
Time of Examination: 60 minutes
Supervised: YES
Open Book: NO
Examination Delivery Options:

1. Authorized accredited training organizations are able to provide access to this examination on-site.
2. Pearson VUE test centres – booking instructions will be provided
3. At your home or in your office using Online Proctored delivery – booking instructions will be provided
Tools
ATE Enterprises is a patron of the Archi open source modelling toolkit which we use to demonstrate the ArchiMate notation and modelling techniques for students. The toolkit has been designed to provide the main features required by ArchiMate modelling with some additional features such as sketches and Business Model Canvas.
All our ArchiMate courses include a tutorial on using Archi for those who may not be familiar with the tool.
We recommend that students use the tool to practice their modelling exercises. The tool is freely available and is used by 1000s of Enterprise Architects worldwide. The Archi download instructions are within the modules however you will need to uninstall any previous versions of Archi before installing this one.
Alternatively, students may practice modelling using their organization's EA tool if it supports the ArchiMate 3.1 notation.
The latest release of Archi supporting ArchiMate 3.1 was delivered in July 2020 and includes the capability to exchange models using The Open Group's ArchiMate exchange format. The file transfer facility is available to swop models between different ArchiMate tools. The Archi version uses the ArchiMate Model Exchange File Format which is available for ArchiMate 3.1 models.
The exchange format means that you can share your models between different ArchiMate tools and access your model data with other modelling frameworks. Very useful for developing your own models using Archi before you share your models with your organization's modelling tool.
In addition, there are a number of ArchiMate Certified Tools that support the ArchiMate 3.1 version (bold) and the ArchiMate 3.01 version which are identified in the following table. These are production level tools for which a fee is required and have many more features than modelling ArchiMate.
Some of the tools also support the TOGAF Enterprise Architecture and are TOGAF certified tools. The table shows which tools support the latest certification version TOGAF 9.2 standard (bold) or the earlier version 9.1 standard.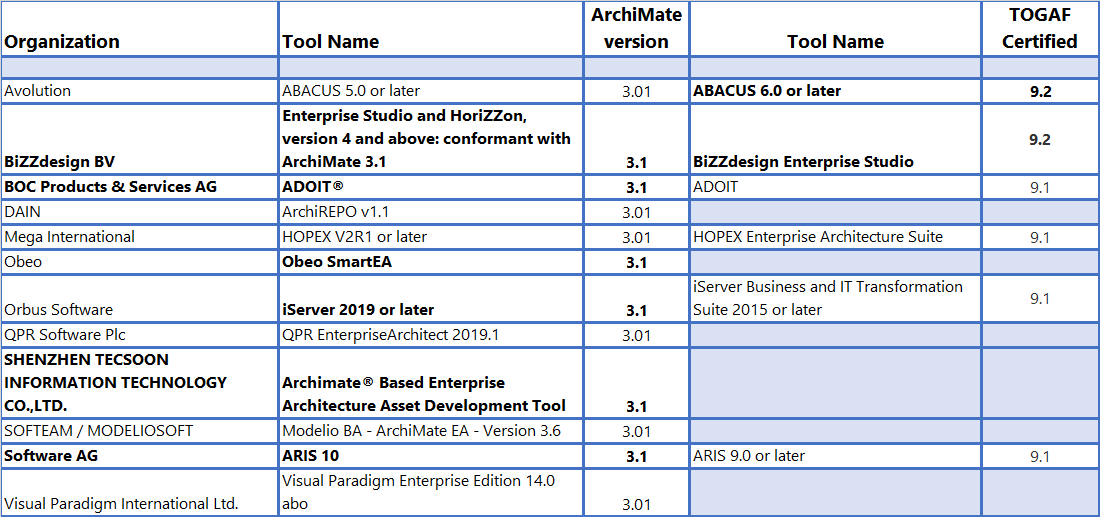 Schedule
All our courses are delivered using our extensive Learning Management Service which includes useful material to enhance the learning experience. The service is available for at least 6 months and may be extended depending on requirements.
The ArchiMate Foundation training is available as a self-learning package on its own and is excellent preparation for the ArchiMate Foundation examination. The self-learning package contains quizzes and exercises in easy to use format and has been designed by highly experienced trainers who are also Enterprise Architects and ArchiMate Modelers.
An optional specialist 1 or 2 hour tutorial is also available for Q&A sessions at an additional charge led by one of our instructors.
Webinar based training is available for teams and/or public events subject to a minimum number of attendees. If this is of interest please contact us directly. Webinars may be available in local time-zones subject to student numbers.
Classroom face to face training will also be available when and where the current Covid 19 restrictions permit.