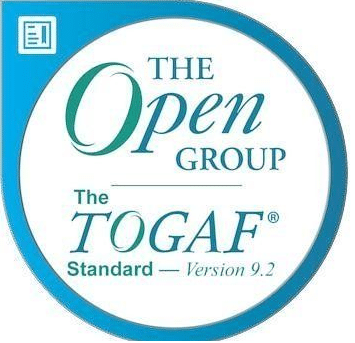 TOGAF® 9.2 Credential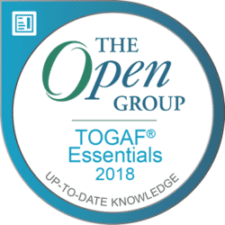 The TOGAF 9.2 Essentials 2018 webinar provides TOGAF 9 (Level 2) certified practitioners a route to updating their knowledge of the standard and how to apply this to the evolving business environment.
The webinar also provides delegates with the quickest way to prepare for the online assessment, leading to the Open Groups TOGAF Essentials 2018 and TOGAF 9.2 Credentials (digital badges). These Credentials validate that individuals have up-to-date knowledge and understanding of the changes introduced to the TOGAF Body of Knowledge in 2018.
Major benefits of attending this webinar and taking the TOGAF ® Essentials 2018 assessment are:
• Making your EA practice more relevant to the modern workplace, by having up-to-date knowledge of the TOGAF standard
• Learning how the TOGAF ® standard, version 9.2 aligns with industry standards better –for example, the increased emphasis on Security, Agile and Cloud
• Having the latest version of TOGAF is an excellent career opportunity, TOGAF is the EA framework of choice for Fortune 500 companies
• You can revisit and maximise your earlier investment in TOGAF 9 with minimal cost and effort
Please click here to Read More
Webinar Dates
| Start Date | Webinar Times(s) UK | Europe (CET) | East Coast(USA) | Australia (AEST) | |
| --- | --- | --- | --- | --- | --- |
| 28th May 2019 | 9AM | 10AM | 4AM | 6PM | |
| 29th May 2019 | 2PM | 3PM | 9AM | 11PM | |
| 30th May 2019 | 6PM | 7PM | 1PM | 3AM | |
| 4th Jun 2019 | 9AM | 10AM | 4AM | 6PM | |
| 5th Jun 2019 | 2PM | 3PM | 9AM | 11PM | |
| 6th Jun 2019 | 6PM | 7PM | 1PM | 3AM | |
| 11th Jun 2019 | 9AM | 10AM | 4AM | 6PM | |
| 12th Jun 2019 | 2PM | 3PM | 9AM | 11PM | |
| 13th Jun 2019 | 6PM | 7PM | 1PM | 3AM | |
| 25th Jun 2019 | 9AM | 10AM | 4AM | 6PM | |
| 26th Jun 2019 | 2PM | 3PM | 9AM | 11PM | |
| 27th Jun 2019 | 6PM | 7PM | 1PM | 3AM | |
| 2nd Jul 2019 | 9AM | 10AM | 4AM | 6PM | |
| 2nd Jul 2019 | 6PM | 7PM | 1PM | 3AM | |
| 4th Jul 2019 | 2PM | 3PM | 9AM | 11PM | |
| 9th Jul 2019 | 6PM | 7PM | 1PM | 3AM | |
| 9th Jul 2019 | 9AM | 10AM | 4AM | 6PM | |
| 11th Jul 2019 | 2PM | 3PM | 9AM | 11PM | |
| 16th Jul 2019 | 9AM | 10AM | 4AM | 6PM | |
| 16th Jul 2019 | 6PM | 7PM | 1PM | 3AM | |
| 18th Jul 2019 | 2PM | 3PM | 9AM | 11PM | |
| 30th Jul 2019 | 9AM | 10AM | 4AM | 6PM | |
| 30th Jul 2019 | 6PM | 7PM | 1PM | 3AM | |
| 1st Aug 2019 | 2PM | 3PM | 9AM | 11PM | |
| 6th Aug 2019 | 9AM | 10AM | 4AM | 6PM | |
| 6th Aug 2019 | 6PM | 7PM | 1PM | 3AM | |
| 8th Aug 2019 | 2PM | 3PM | 9AM | 11PM | |
| 13th Aug 2019 | 9AM | 10AM | 4AM | 6PM | |
| 13th Aug 2019 | 6PM | 7PM | 1PM | 3AM | |
| 15th Aug 2019 | 2PM | 3PM | 9AM | 11PM | |
| 20th Aug 2019 | 9AM | 10AM | 4AM | 6PM | |
| 20th Aug 2019 | 6PM | 7PM | 1PM | 3AM | |
| 22nd Aug 2019 | 2PM | 3PM | 9AM | 11PM | |
| 27th Aug 2019 | 9AM | 10AM | 4AM | 6PM | |
| 27th Aug 2019 | 6PM | 7PM | 1PM | 3AM | |
| 29th Aug 2019 | 2PM | 3PM | 9AM | 11PM | |