PRINCE2® Practitioner (level 2) e-Learning

4.5 (1,893 ratings)
14,156 architects enrolled
13 hours, self-paced
Duration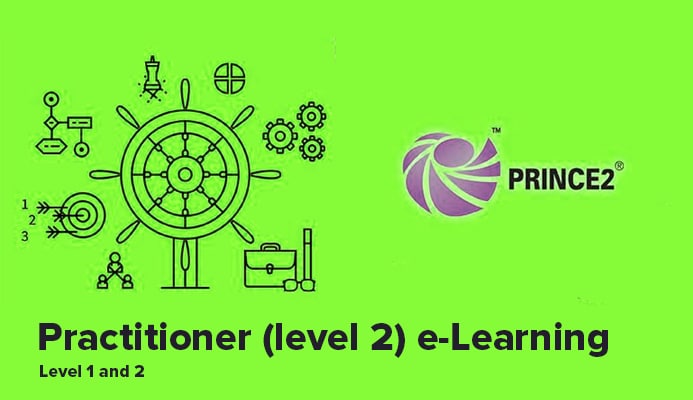 This training product includes:
15 hours of course material
FREE exam voucher
Practice exams
About PRINCE 2 Practitioner (Level 2)
The second and final stage of the qualification will provide you with the skills knowledge to apply and fine-tune the PRINCE2 methodology to address the needs of a project scenario. It will also enable you to understand the relationships between PRINCE 2 principles, themes and processes. A PRINCE2 Practitioner e-learning course can also be taken by individuals who have already studied PRINCE2 at Foundation level and wish to continue their certification and become an accredited PRINCE2 practitioner.
Course Overview
The purpose of this PRINCE2 Practitioner e-learning course is to provide individual students, groups or organizations with a practical and full understanding of the PRINCE2 Methods and best-practices in order to pass the Practitioner level exam. On completion of the course candidates should be able to apply and understand how to tailor PRINCE2 effectively to a project within an organization environment supporting PRINCE2. Specifically candidates should be able to apply the principles, themes and processes to a project and create and assess management products.
Curriculum
PRINCE2 Foundation Refresher e-learning
PRINCE2 Overview & Principles
PRINCE2 Processes
Key Elements of PRINCE2
The PRINCE2 Process Model
PRINCE2 Practitioner
Introduction into PRINCE2 Practitioner
PRINCE2 Process Model Walkthrough
Marking up the PRINCE2 Manual
Practical Practitioner Exercises
Practitioner Exam Technique
Exam Simulator
PRINCE2 Project Scenarios
Business Case Simulation
Organization Simulation
Quality Simulation
Product Breakdown Structure Simulation
Management of Risk Simulation
Also includes…
Comprehensive course notes
Detailed exercises
Exam questions, answers and marking guides
Guide to exam technique
Full technical support
Assessment
This examination measures whether a candidate would be able to apply PRINCE2 to the running and managing of a project within an environment supporting PRINCE2. To this end candidates need to show that they can apply and tailor PRINCE2 appropriately to address the needs and problems of a specific project scenario.

In order to sit the PRINCE2 Practitioner examination you must provide proof of having passed one of the following:
PRINCE2 Foundation
Project Management Professional (PMP)®
Certified Associate in Project Management (CAPM)®
IPMA Level A (Certified Projects Director)
IPMA Level B® (Certified Senior Project Manager)
IPMA Level C® (Certified Project Manager)
IPMA Level D® (Certified Project Management Associate)
Individual IPMA chapters have local interpretations of these certificates eg in the UK the APM is the IPMA chapter. The APM Level D certification is their APM Project Management qualification.
Happy with our features? Why delay, book now!
Book in 15 seconds