TOGAF® 9.2 Credential
Delivered by ATE Enterprises

4.6 (2,423 ratings)
15,649 architects enrolled
Credential on Assessment
Certificate
3 Hours 30 Minutes
Duration
Visit our Shop for Pricing
Price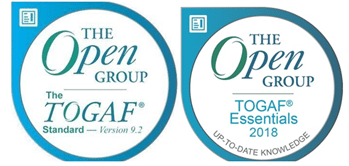 This Training Product Includes: 
TOGAF® Essentials 2018 Assessment
Access to our Learning Management System and full webinar recording
About TOGAF
The Open Group launched the TOGAF 9.2 Credential at their Dublin conference in April 2019. These Credentials can be achieved by anyone who has been certified in the latest TOGAF 9.2 specification.
New features of the TOGAF 9.2 standard include:
• Focus on Digital and Business Transformation with Enterprise Architecture as the bedrock for building digital capabilities across the organisation
• New Business Architecture capabilities and deliverables working in synergy with the Business Architecture Guild to unify global approaches
• Improved Architecture Development Method recognising today's enterprise architecture needs and transformation agendas
• Enhanced risk and security capability with an updated TOGAF based Security Architecture using NIST standards and the SABSA framework
• Security considerations whilst applying the ADM
• Revised TOGAF terminology & definitions
• Additions to the Business Architecture domain
• Updated TOGAF Content Framework and Metamodel
• Updates to several major terms and definitions
• The structure of the TOGAF standard and the importance of the TOGAF Library
• Changes as a result of ISO/IEC/IEEE 42010:2011 and the impact of these to TOGAF
People qualifying for the TOGAF 9.2 Credential are:
1. Students taking an accredited course in TOGAF 9.2 and who pass their TOGAF Level 1 & 2 certification exams
2. Students taking the TOGAF Essentials Credential course, which provides the upgrade path for current TOGAF 9.0/9.1 certified people, and who pass the online assessment.
3. Students who passed the TOGAF examinations in the last 6 months but did not take an accredited TOGAF 9.2 course will need to take the TOGAF Essentials 2018 upgrade and the assessment.
Benefits of studying with ATE Enterprises
Our instructors have been involved with the TOGAF standard and its training since its inception. We are also the only EA training company whose course materials were co-authored by the current chairman of the Architecture Forum in The Open Group – the committee tasked with maintaining the TOGAF standard.
Our CEO and course creator, Judith Jones, is also a co-author of the TOGAF specification and member of the Architecture Forum with The Open Group. Our instructors combined have many decades worth of experience in delivering the best quality TOGAF courses and their students account for nearly 50% of all TOGAF certifications worldwide. There really is no EA training provider with more experience and a better reputation than ATE Enterprises.
Curriculum
The course covers changes and updates to the following:
• The business rationale for Enterprise Architecture and a framework.
• The Enterprise Continuum
• Enterprise Architecture Governance
• Architecture Principles and their development
• Architecture Views and Viewpoints
• Requirements Engineering using Business Scenarios
• Architecture Maturity Assessments
• Architecture Skills Framework
• An Introduction to Building Blocks
• Architecture Partitioning
• Content Framework and Metamodel
• Capability Based Planning
• Business Transformation Readiness
• Architecture Repository
Assessment
Requirement: You must be TOGAF 9 (Level 1 & 2) certified to undertake this assessment

How to earn your digital credential
ATE is pleased to advise that all students trained by us on an accredited course since October 15, 2018 qualify for the TOGAF 9.2 Credential.
For people with an earlier TOGAF 9 certification who wish to gain up-to-date knowledge and certification recognition of TOGAF 9.2 the Open Group introduced the TOGAF Essentials 2018 Credential. Achievement of this Credential will also qualify for the TOGAF 9.2 Credential.
ATE Enterprises is offering you the chance to learn about these new features with a TOGAF Essentials 2018 Credential training via a live 3.5 hour webinar with Judith Jones, Chair of the Certification Standing Committee and a major contributor to the TOGAF specification since 1999.
Obtaining these badges shows that your TOGAF skills remain cutting edge and provides validation that individuals have up-to-date knowledge and understanding of the changes introduced to the TOGAF Body of Knowledge in 2018.
On the successful completion of the Credentials online assessment, operated by The Open Group, you will receive a Digital Credential in recognition of your achievement.
Assessment Summary

Comprises 20 multiple-choice questions
30 minutes' time limit
 Pass mark 75%
Should you fail, you have 2 retakes accessible via the same URL
The Assessment is Open Book
Happy with our features? Why delay, book now!
Book in 15 seconds